About Me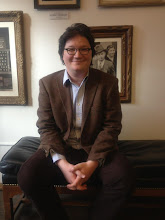 Matthew Freeman is a Brooklyn based playwright with a BFA from Emerson College. His plays include THE DEATH OF KING ARTHUR, REASONS FOR MOVING, THE GREAT ESCAPE, THE AMERICANS, THE WHITE SWALLOW, AN INTERVIEW WITH THE AUTHOR, THE MOST WONDERFUL LOVE, WHEN IS A CLOCK, GLEE CLUB, THAT OLD SOFT SHOE and BRANDYWINE DISTILLERY FIRE. He served as Assistant Producer and Senior Writer for the live webcast from Times Square on New Year's Eve 2010-2012. As a freelance writer, he has contributed to Gamespy, Premiere, Complex Magazine, Maxim Online, and MTV Magazine. His plays have been published by Playscripts, Inc., New York Theatre Experience, and Samuel French.
View my complete profile
Thursday, February 14, 2013
Pam also discusses the Year of the Witch
here
.
Posted by

Freeman
at 1:25 PM
0 comments


My wife, Pam Grossman, is profiled in the latest episode of Midnight Archive: Art and the Occult. Check it out.


Posted by

Freeman
at 7:23 AM
0 comments


Tuesday, February 12, 2013
Another Off-Off Broadway space will soon be gone
. I directed plays at the Red Room years ago, happily, working with Anthony Pennino. It's a place where lots of Off-Off Broadway performers cut their teeth, enjoyed some stage time, experimented. Sad to see it go, but it's not alone. There's less room in Manhattan these days for the scrappy plays, more space for oddly prepared comfort food and brunch. It's the way of things. So it goes.
Forward.
Posted by

Freeman
at 8:05 AM
0 comments