About Me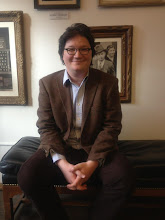 Matthew Freeman is a Brooklyn based playwright with a BFA from Emerson College. His plays include THE DEATH OF KING ARTHUR, REASONS FOR MOVING, THE GREAT ESCAPE, THE AMERICANS, THE WHITE SWALLOW, AN INTERVIEW WITH THE AUTHOR, THE MOST WONDERFUL LOVE, WHEN IS A CLOCK, GLEE CLUB, THAT OLD SOFT SHOE and BRANDYWINE DISTILLERY FIRE. He served as Assistant Producer and Senior Writer for the live webcast from Times Square on New Year's Eve 2010-2012. As a freelance writer, he has contributed to Gamespy, Premiere, Complex Magazine, Maxim Online, and MTV Magazine. His plays have been published by Playscripts, Inc., New York Theatre Experience, and Samuel French.
View my complete profile
Thursday, November 06, 2014
Posted by

Freeman
at 2:23 PM
0 comments


Wednesday, November 05, 2014
Ah, midterm elections. In honor of the Republican party gaining national power after six years of doing the least amount possible, I would like to share a bit of text from my play,
Confess Your Bubble
.
"The United States of America is the greatest nation in the history of the world, because it exemplifies the ideals of humankind. We, as a People, believe in the right of all people to practice their own religion, to wear what they like, to think what they like, to speak freely, to invent new spellings and punctuations, to do what they want for a living, even if it's painting or dancing or something like that. We are a nation of laws, and no one is above the law, except a few people, but what can you expect? We believe in the power of the human spirit, and the innovation, and the free market, except when it screws up, and we think everyone should vote, even though most people don't bother, because they have been disheartened systematically by calculatingly free speech.
So be proud, is my point. Proud of yourselves for who you are, for being born to this, being born in this, because it was born inside you, in you, in you, in you. You were infected with Exceptionalism, and so you are exceptional, and you are manifestly destined to manifest your destiny by writing a manifesto about how to pick a girl named Destiny. Not that she is black, that's just her name. Her very attractive name.
Stand up, I say, the next time you bother to try, and thank God, if you believe in God, that you are from the good old USA. USA! USA! USA! Scream it at a football game, or yell it at that Italian professional wrestler that is dressed up like Saddam Hussein. Do it with passion and verve. Be it. You are of it. Of it. Of it. Of it."
Posted by

Freeman
at 2:20 PM
0 comments